Oikocredit, which promotes entrepreneurship in developing countries, and fair trade organisation Max Havelaar have very clear views on their office accommodation. They don't see it merely as an expense, but as an investment in culture, the working environment and their identity. This is why their new offices had to be pleasant in terms of lighting and climate control and needed to be close to Utrecht Central Station. The building on Arthur van Schendelstraat fitted that bill exactly.
The building also had to score highly in terms of its energy label. "After all, Max Havelaar is constantly calling for change and for more sustainability in developing countries. This means we have a duty to live up to our vision in our own premises," says Peter d'Angremond.
Real partnership
But moving into an energy-efficient building wasn't enough for Max Havelaar and Oikocredit. "We were looking for a partnership with the lessor and their property manager, in which we all constantly looking for ways to use the building even more sustainably. Bouwinvest decided to work with us to meet this challenge. I don't think there are many tenants who sit down at the table with the owner and manager of a building like this to see how they can make that building even more sustainable, but also to find the best way to use it more sustainably. Everybody involved made their own contribution," says d'Angremond.
As a tenant, Oikocredit director Hann Verheijen really appreciates Bouwinvest's aim to have the building certified under the standards of BREAAM-NL In-Use. "What makes this interesting is that all three parties are involved in this project: Bouwinvest as the owner, WPM as the manager and us as tenants, all with the support of consultancy DWA. It feels like a partnership and not just a simple tenant – landlord relationship. We consciously think about how we can add value for each other. I feel we are making real progress on that front."
Taking the lead
Peter d'Angremond believes it is crucial that everybody involved accepts their responsibility. "Another key condition is people's commitment and leadership. This is something we've found a very positive experience in the partnership with Bouwinvest. When we signed the contract, we agreed certain things and Bouwinvest is really keeping its side of the bargain. That kind of leadership on the part of Bouwinvest, that commitment, is very important to us."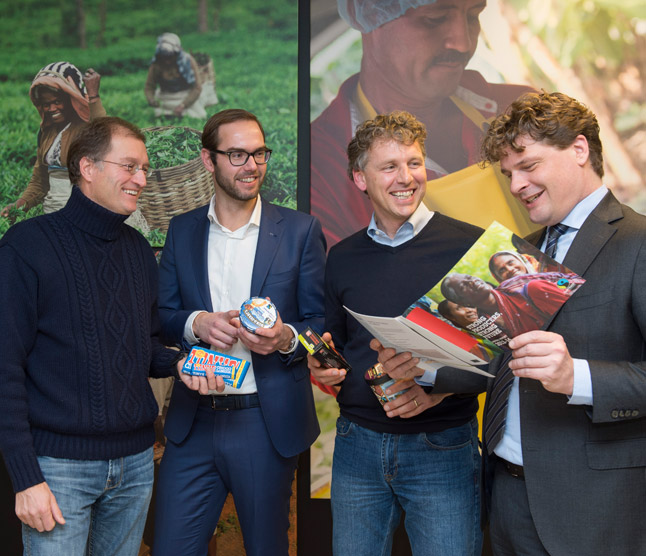 Peter d'Angremond, Director Max Havelaar; Bernardo Korenberg, CSR Manager Bouwinvest; Hann Verheijen, Director of Oikocredit Nederland; Floris Hack, Asset manager Office Bouwinvest
Arthur van Schendelstraat, Utrecht, the Netherlands